About the Gateway Cities Alliance
Brett Luxford (City of Greater Geelong), Dan Simmonds (Committee for Geelong), Lord Mayor Cr. Nuatali Nelmes (Newcastle City Council), Senator Sarah Henderson, The Hon. Alan Tudge , Jennifer Cromarty (Committee for Geelong), Lord Mayor Cr. Gordon Bradbury (City of Wollongong) – at the launch of the Gateways to Growth Report at Parliament House in November 2019
About the Gateway Cities Alliance
Brett Luxford (City of Greater Geelong), Dan Simmonds (Committee for Geelong), Lord Mayor Cr. Nuatali Nelmes (Newcastle City Council), Senator Sarah Henderson, The Hon. Alan Tudge , Jennifer Cromarty (Committee for Geelong), Lord Mayor Cr. Gordon Bradbury (City of Wollongong) – at the launch of the Gateways to Growth Report at Parliament House in November 2019
With the seemingly unstoppable growth of Australia's metropolitan capital cities becoming an issue of national concern, there has been a renewed interest in identifying ways by which the current and prospective economic and social impact of Australia's major regional cities can be better leveraged.
The Gateway Cities Alliance works together to provide a collaborative and collective approach to ease population pressures on Australia's Gateway cities. The shared and unique characteristics and strategic assets of the cities of Wollongong, Newcastle and Geelong can be deployed to maximise national economic growth, regional resilience and job creation for Australia's long-term settlement strategy.
Australia's Gateway Cities share the following characteristics: Geographically well-defined jurisdictions that are predominantly urban while still allowing for a significant agricultural economic base, Gateway Cities undertake significant public administration and public policy functions which may have a direct impact on the governance and well-being of the nation in addition to the relevant Capital City.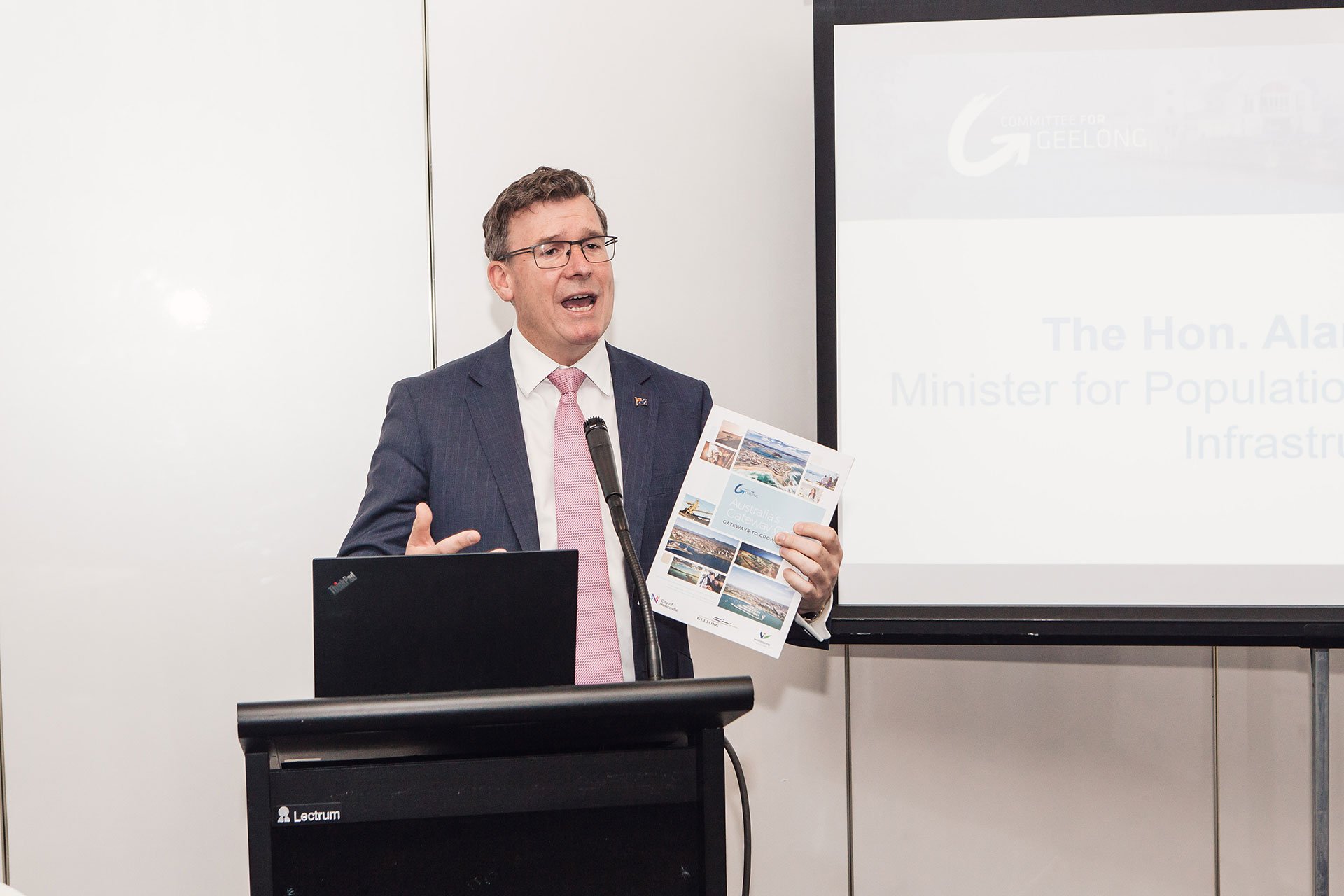 The Hon. Alan Tudge, Minister for Population, Cities and Urban Infrastructure – at the launch of the Gateways to Growth Report at Parliament House in November 2019.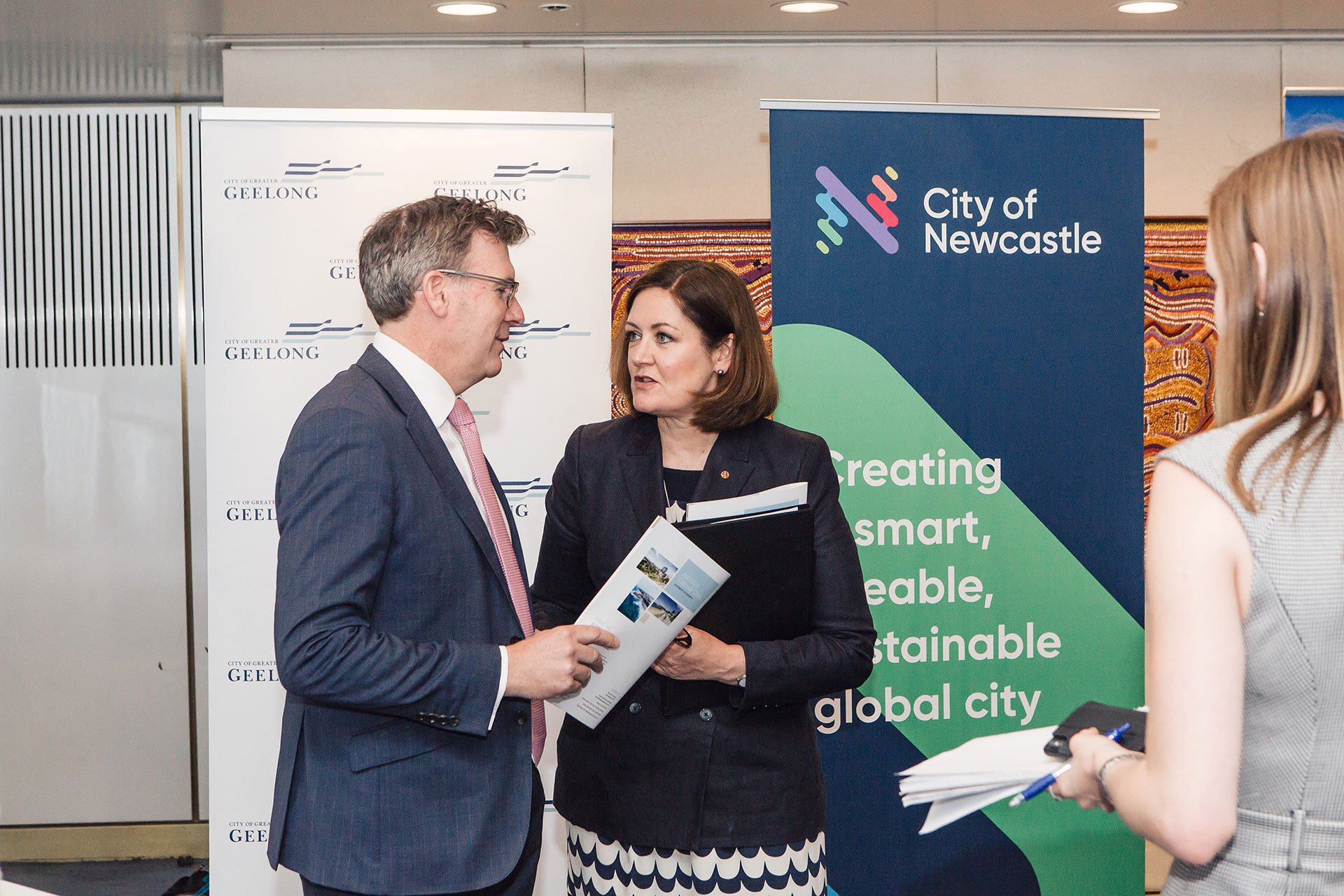 The Hon. Alan Tudge and Senator Sarah Henderson – at the launch of the Gateways to Growth Report at Parliament House in November 2019.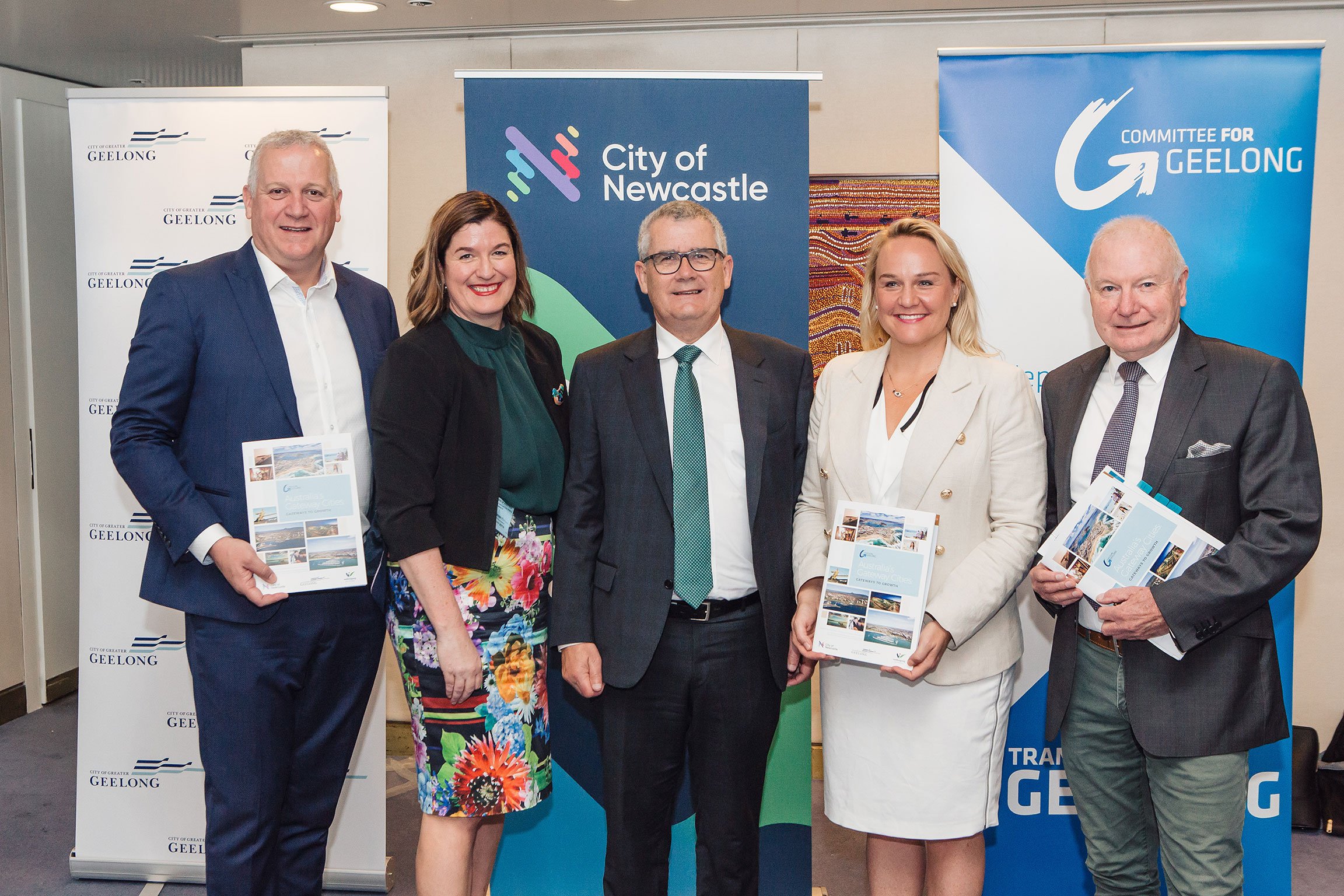 Brett Luxford (City of Greater Geelong), Jennifer Cromarty (Committee for Geelong), Dan Simmonds (Committee for Geelong), Lord Mayor Cr. Nuatali Nelmes (Newcastle City Council), Lord Mayor Cr. Gordon Bradbury (City of Wollongong) – at the launch of the Gateways to Growth Report at Parliament House in November 2019.
About Newcastle
Newcastle is the economic hub of the Hunter Region located about 160 kilometres north of Sydney. Coal has been Newcastle's lifeblood for more than 200 years. From the earliest years of the 19th century, coal drove the Hunter economy, dictated patterns of settlement, ensured an international outlook for the community, and reflected the booms and busts of the Australian economy. Its social and economic impact has helped shape modern Newcastle. The region has supported copper and aluminium smelting, and it has been a major centre for ship-building. It also features mining-related engineering and steel-making as well as a diverse range of light and medium engineering and processing industries. While Newcastle's industrial sector continues to play an important role, Newcastle is no longer a 'steel city'. The Port of Newcastle is Australia's largest coal export port by volume and a growing multi-purpose cargo hub.
About Wollongong
Wollongong is a metropolitan area located between the Illawarra escarpment and the coast in Dharawal country, about 70 kilometres south of central Sydney. The population of the City of Wollongong is 216,071 (Illawarra 311,193), according to Australian Bureau of Statistics 2018 data. In 1797, shipwrecked sailors, upon rescue and return to Sydney, reported coal seams outcropping from the sea cliffs in the Illawarra. Coal precipitated the growth of Wollongong as a major industrial centre. Steel production continues in Wollongong at greater scale than in Newcastle, and heavy industry maintains an important place in the local economy. Research, education and training are assisting the expansion of Wollongong's regional manufacturing innovation ecosystem, along with advancing defence industry capabilities. New capabilities in technical services, defence procurement, scale-ups, finance and medical science are emerging, supporting Wollongong's vision of a highly-skilled, vibrant community offering investment opportunities and work-life balance for its people.
About Geelong
The City of Geelong is located on Wadawurrung land, around the shores of Corio Bay, and the eastern arm of the larger Port Phillip Bay on Victoria's south coast. First gazetted as a town in 1838, the current City of Greater Geelong has a population of 244,790 (Geelong G21 councils total 324,067). Like Melbourne, albeit on a lesser scale, Geelong benefited from the industrialisation and growth in local manufacturing that accompanied the rise of the Victorian gold industry, becoming noted for its woollen mills, rope works, paper mills and breweries. While economic transformation of Geelong continues, it is evident that manufacturing (advanced manufacturing technologies, food processing) continues as a key sector. The burgeoning growth in services, in particular education, aviation, health and medicine, as well as a lively creative industries and arts culture, has been materially supplemented by the relocation to Geelong of major government agencies.
SIGN UP TO OUR NEWSLETTER
Join our mailing list to recieve the latest news and updates.